Chicken Tikka Masala.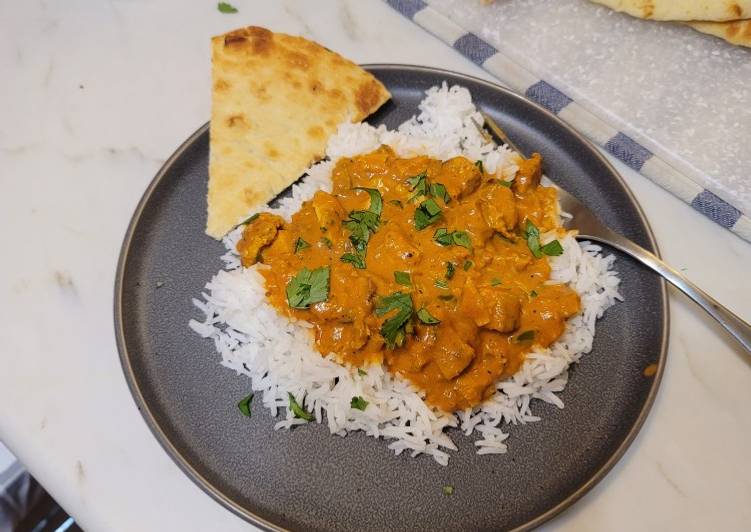 You can cook Chicken Tikka Masala using 31 ingredients and 17 steps. Here is how you cook it.
Ingredients of Chicken Tikka Masala
You need of Chicken Marinade.
You need of boneless, skinless chicken thighs, trimmed of excess fat.
Prepare of plain Greek yogurt.
It's of Juice of half a lemon, about 1 tbsp.
It's of garlic cloves, minced.
Prepare of " piece of ginger, minced.
It's of garam masala.
You need of turmeric.
You need of paprika.
It's of ground cumin.
It's of cinnamon.
Prepare of kosher salt.
Prepare of Sauce.
You need of unsalted butter.
It's of medium sweet onion, minced.
You need of small jalapeños, seeds removed and minced.
You need of garlic, minced.
You need of " piece of ginger, minced.
Prepare of garam masala.
Prepare of ground cumin.
It's of turmeric.
Prepare of ground coriander.
It's of paprika.
You need of cayenne.
It's of kosher salt.
Prepare of chicken broth.
It's of tomato paste.
Prepare of tomato sauce.
Prepare of brown sugar.
Prepare of heavy whipping cream.
You need of Chopped fresh cilatro, for garnishing.
Chicken Tikka Masala step by step
Marinate and Prepare the Chicken:.
Combine all marinade ingredients (except chicken) and mix well. Add chicken thighs and toss well to coat. Cover and marinate at least 1 hour and up to 5 hours..
When ready to cook chicken, place a rack inside a foil-lined, rimmed cookie sheet. Turn broiler on high, and move oven rack to 6"-8" (second level for my oven) from heating element..
Remove thighs and shake off excess marinade. Place on rack, not touching. Place in oven under broiler..
Remove sheet from oven when top has a nice char and looks mostly dry. Flip chicken pieces and char the other side. Roughly chop chicken and set aside while you prepare the sauce..
Prepare the Sauce:.
Mix all dry spices together up to kosher salt, set aside..
Melt butter over medium-high heat in a non-reactive pot (no cast iron) until starting to foam..
Add jalapeños and sautee one minute. Add onions and sautee, stirring frequently until onions start to soften. Approximately 3-4 minutes..
Add garlic and ginger, sautee until fragrant, approximately 1 minute..
Add dry spice mix and stir constantly until fragrant, 30 seconds..
Add tomato paste and sautee until well mixed..
Add chicken broth to deglaze pot and reduce heat to medium..
Add tomato sauce and stir well. Add brown sugar and mix well. Taste at this point and salt to taste if necessary. If sauce is very thin (does not coat the spoon well), simmer a little longer to thicken..
Add chopped chicken, stir and cover. Let flavors combine for 5 minutes..
Add heavy whipping cream, stir well but do no let simmer after adding cream. Warm through and remove from heat once hot..
Serve with basmati rice, warm naan bread and garnish with cilantro..