Creamy Tomato Soup.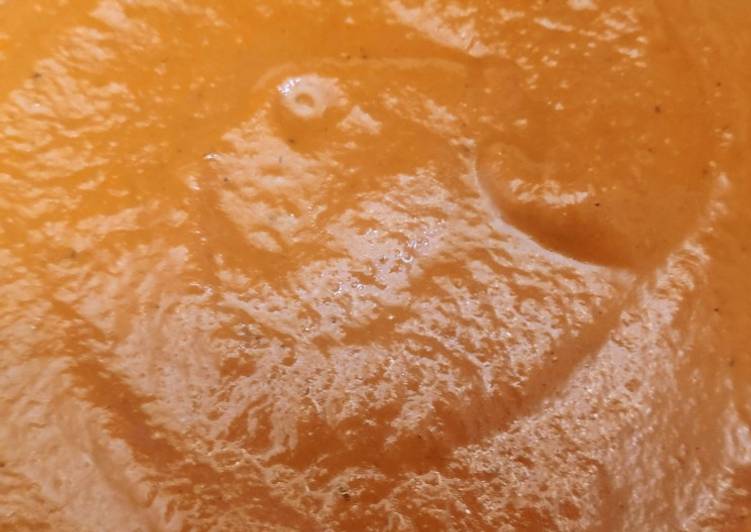 You can have Creamy Tomato Soup using 17 ingredients and 5 steps. Here is how you cook that.
Ingredients of Creamy Tomato Soup
It's 4 Tbsp of Olive Oil Divided.
It's 1 Can (32 oz.) of Whole San Marzano Tomatoes.
You need 6-8 of (@1.5 lbs) Ripe Fresh Tomatoes (I used Romas).
It's 1 of Large Onion Divided.
You need 4-6 Cloves of Garlic Divided.
You need 1 1/2 Cups of Chicken Broth.
You need 1/2 Cup of Heavy Whipping Cream.
You need 1/2 Cup of Fresh Basil Leaves (or 1-2 tsp Dried).
It's 1 tsp of Sugar or Coconut Sugar (Can omit if Tomatoes are Sweet).
It's 1/2 tsp of Dried Thyme Leaves.
You need 1/4 tsp of Red Pepper Flakes.
Prepare 1 Tbsp of Balsamic Vinegar.
It's of Salt (To Taste).
You need of Black Pepper (To Taste).
Prepare 2 Tbsp of Butter (Optional) (For Flavor, Richness, Creaminess).
You need 1/2-1 Cup of Freshly Grated Parmesan (Optional).
You need 2-3 tsp of Concentrated Tomato Paste (Optional).
Creamy Tomato Soup step by step
Preheat Oven to 425°.
Mix Fresh Roma Tomatoes (Halved Lengthwise), half of the Onion (1/2" Slices), 2 Cloves of Garlic (Whole or Halved), 2 Tbsp Olive Oil, Balsamic Vinegar, and Salt and Pepper on a baking sheet. Roast, in one even layer, for about 25 Minutes or until they develop color..
In a large soup pot, add the other 2 Tbsp Olive Oil. Add the other half of the Onion (Diced), the Thyme, Red Pepper Flakes, and a little salt, cook over Med Heat until soft and a golden color develops. Add other 2 Cloves Garlic (Minced), cook another 1 – 2 Minutes, stirring frequently..
Add the Canned San Marzano Tomatoes and Chicken Broth. Turn up heat to Med High, and bring to a boil. Reduce heat to Medium again, and simmer for about 20 Minutes. Tomatoes should be soft enough to start breaking down with fork. Add Basil, Sugar, and roasted Tomato/Garlic/Onions, simmer for another 5 – 10 Minutes. I like to squish the roasted garlic into a paste before I add it in. Remove Basil (If fresh), and season with Salt and Pepper to taste. Turn off heat..
Using a heat safe regular blender or an emersion blender, puree soup until smooth, then sift through a strainer. Add strained soup back to soup pot, and turn heat to Med. Simmer for a few minutes, then add the Heavy Whipping Cream. Add Parmesan, Butter, and Tomato Paste, if using. Taste for seasoning. Stir and serve..