Vickys Roasted Parsnip Nut Loaf, GF DF EF SF NF Vegan Christmas.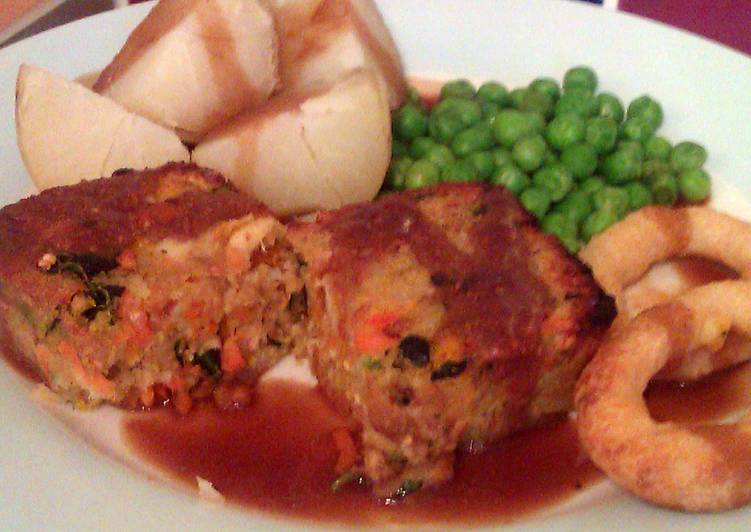 You can cook Vickys Roasted Parsnip Nut Loaf, GF DF EF SF NF Vegan Christmas using 17 ingredients and 11 steps. Here is how you achieve it.
Ingredients of Vickys Roasted Parsnip Nut Loaf, GF DF EF SF NF Vegan Christmas
You need 600 grams of parsnips, peeled and halved.
You need 100 grams of sweet potato, peeled and thickly chopped.
It's 50 grams of potato, peeled and quartered.
You need 50 grams of swede, peeled and diced.
You need 50 grams of spinach.
Prepare 1 of onion, peeled and finely chopped.
Prepare 1 clove of garlic, peeled and finely chopped.
You need 200 grams of carrot, peeled and grated.
Prepare 200 grams of roasted unsalted peanuts, chopped.
Prepare 60 grams of roasted hazelnuts, chopped.
It's 40 grams of blanched almonds, chopped.
You need 3 tbsp of parsley, finely chopped.
Prepare 2 tbsp of lemon juice.
You need 1 of gluten-free breadcrumbs or porridge oats.
Prepare to taste of Maple syrup / Agave / Honey.
You need to taste of salt & pepper.
Prepare of vegetable oil.
Vickys Roasted Parsnip Nut Loaf, GF DF EF SF NF Vegan Christmas step by step
Pre-heat the oven to gas 6 / 200C / 400°F and lightly oil a baking tray. Put the parsnips in a pan of boiling salted water for 5 minutes then drain. Lay them on the greased baking tray and give them a drizzle of oil and honey or agave and bake for 20 minutes until just softening. Leave the oven on when done for baking the finished loaf.
Meanwhile, bring the swede, sweet potato and potato to boil in salted water, then simmer until slightly softened and drain.
Also fry off the onion and garlic in some oil until the onion is translucent, then add to the pan with the swede and potato.
Cook off the spinach in some salted water for 5 minutes until wilted then drain and add to the swede pan.
When the parsnips are done, add them to the swede pan with the spinach, parsley, lemon juice, nuts and grated carrot, salt & pepper to taste.
(If you need to roast the peanuts and hazelnuts yourself do so before roasting the parsnip etc at gas 4 / 180C / 350°F until they turn a shade darker and the skins split. The skins will be easily rubbed off).
Mash everything together well. You should be able to form a moist ball in your hand with the mixture. If it's too wet, add some breadcrumbs or porridge oats to the mixture. Season to taste, you may wish to add more honey/agave.
Lightly oil an ovenproof dish or line with foil. Spoon the mixture in, pat down and cover with some more oiled foil and bake for 30 minutes then remove foil and continue baking for a further 15-20 minutes until the top starts to turn golden brown.
Let stand 10 minutes before slicing and serve hot with a nice salad, green veg or with some boiled potatoes and vegetable gravy.
You can also bake in a loaf tin or it's nice to put into individual ramekins or madeline moulds. Adjust the cooking time to 45 minutes covered and 15 uncovered if you use a loaf tin and reduce to 35 minutes total time if using individual mini loaf moulds.
This is a bit 'all about the timing' but it's worth it. It's a great alternative to meatloaf.