Vickys Cheese Straws, GF DF EF SF NF.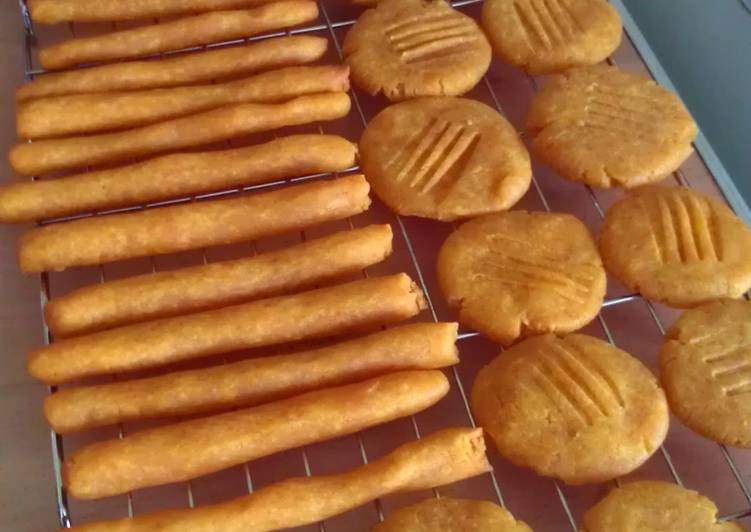 You can cook Vickys Cheese Straws, GF DF EF SF NF using 5 ingredients and 9 steps. Here is how you achieve it.
Ingredients of Vickys Cheese Straws, GF DF EF SF NF
It's 120 g of gluten-free / plain flour.
It's 1 pinch of cayenne pepper.
It's 113 g of sunflower spread such as Vitalite brand, cubed.
You need 113 g of cheddar-style cheese – I like Tescos free-from brand.
It's 75 g of parmesan-style Violife vegan cheese.
Vickys Cheese Straws, GF DF EF SF NF step by step
Preheat the oven to gas 8 / 230C / 450°F and line a baking sheet with parchment paper.
Mix the flour and cayenne together.
Pulse the butter and flour together in a food processor until crumbly as if making pastry. Add some ice water if the dough needs help coming together.
Tip onto a lightly floured surface and knead the cheeses into the dough.
Break even-sized pieces of the dough off and roll by hand into a straw shape.
Place on the baking sheet and bake for around 6 – 8 minutes or until lightly golden.
You can form balls and flatten them too. Give them an extra few minutes to bake.
Let cool on a wire rack once firmed up enough to move them.
Best eaten the same day. Dough can be frozen. If turning soft, the baked cheese straws can be firmed up with a few minutes back in the oven at the same temp.