Baked Mac & Cheese with Butternut Squash.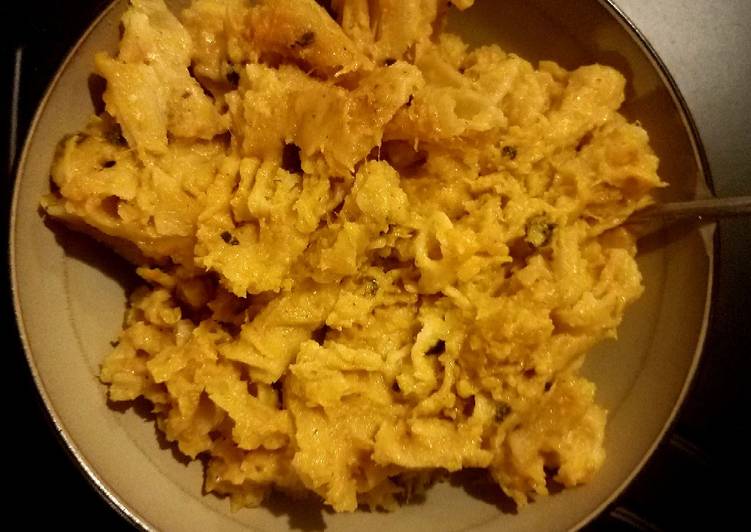 You can cook Baked Mac & Cheese with Butternut Squash using 12 ingredients and 9 steps. Here is how you cook that.
Ingredients of Baked Mac & Cheese with Butternut Squash
You need 1 box of GF pasta.
You need 4 Cups of Roasted Butternut Squash pureed.
Prepare 1/4 Cup of White Rice Flour.
Prepare 1 of Poblano Pepper chopped.
It's 1 Clove of Garlic minced.
It's 2 Cups of Butter Milk.
You need 1 Tsp of Ground Mustard Powder.
It's 1 Tsp of Chopped Dehydrated Onion.
It's 1 Dash of No-Salt Organic Seasoning (Costco brand).
You need 1 Dash of Adobe Seasoning.
Prepare 3 Cups of Shredded Cheddar Cheese.
It's 1/4 Cup of Grated Parmesan Cheese.
Baked Mac & Cheese with Butternut Squash step by step
Preheat oven to 350°.
In large pan heat 2 tbsp oil and soften the poblano and garlic..
Whisk in the flour along with the spices. Cook until the raw taste from the flour is gone, about 15 minutes whisking periodically..
Slowly whisk in the butter milk and allow to thicken slightly..
Once the mixture is thick enough to coat the back of a spoon start whisking in the squash and 3.5 cups of the cheddar cheese..
After the cheese and squash are incorporated stir in cooked pasta..
Pour the mixture into a greased baking dish cover with foil and bake for 20 minutes..
After 20 minutes remove then top with remaining cheddar and parmesan. Bake uncovered for about 8 minutes, just enough to set and lightly brown the top..
Allow to cool and dig in!.