Creamy Green Chile Rice w/ Goat Cheese.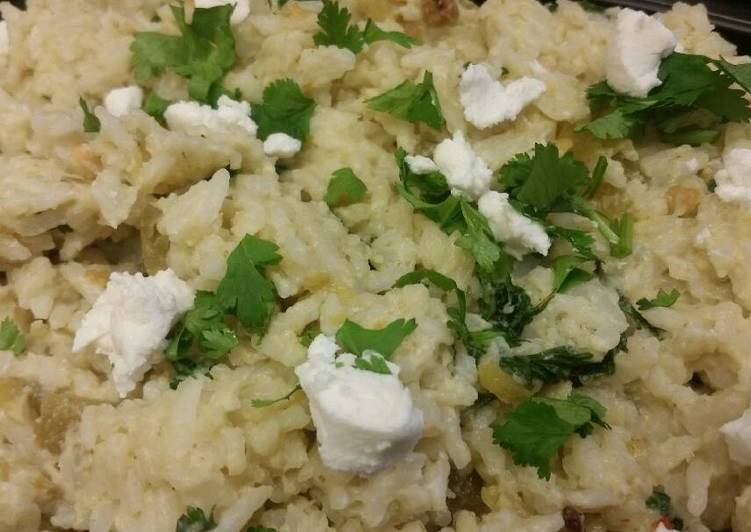 You can cook Creamy Green Chile Rice w/ Goat Cheese using 10 ingredients and 8 steps. Here is how you achieve that.
Ingredients of Creamy Green Chile Rice w/ Goat Cheese
It's 2 C of rice.
It's 28 oz of green enchilada sauce.
It's 8 oz of chicken stock.
It's 8 oz of diced green chiles.
Prepare 4 oz of goat cheese log.
You need 1/2 stick of butter.
It's 1 T of ground coriander.
Prepare 1 C of milk.
It's 1/2 bundle of cilantro; chiffonade.
You need 1 of large pinch kosher salt.
Creamy Green Chile Rice w/ Goat Cheese instructions
Heat enchilada sauce and chicken stock in a saucepot..
Melt butter in a different stock pot..
Add rice when butter melts. Stir to coat each grain of rice. Add coriander and salt. Cook for 1 minute or until grains begin to separate..
Add stock and sauce. Stir. Bring to a simmer. Cover. Let simmer on low heat for 15 minutes. Remove from heat. Let steam for 5 minutes. Do not remove the lid..
Heat milk to a simmer. Add rice to the milk while stirring..
Add diced green chiles and cilantro. Stir..
Garnish with goat cheese..
Variations; Avocado, yellow onion, creamed pearl onions, lime zest, ancho chile, coconut milk, chipotle, jalapeno, serrano, poblano, chimichurri, chickpeas, bell pepper, garlic, cayenne, corn, cumin, curry, lemon, mint, red onion, blood orange, parsley, olive oil, mango, orange zest, pumpkin, scallions, butternut squash, tomatillos, sweet potato, tamarind, white wine vinegar, sesame seeds, zucchini, almond, peanut, walnut,.