7-Up Biscuits With A KICK!. I don't know if you You absolutely can use self rising flour instead of bisquick! As anyone can see looking at my recipes I do love Bisquick. I like its taste and convenience.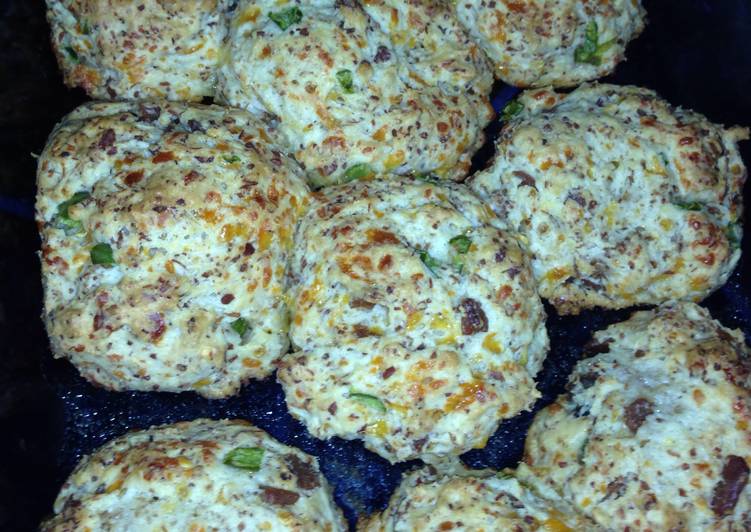 You'll never want to make biscuits differently again! The dough will be very soft. Knead and fold dough until baking mix is well incorporated. You can have 7-Up Biscuits With A KICK! using 7 ingredients and 8 steps. Here is how you achieve it.
Ingredients of 7-Up Biscuits With A KICK!
You need of Bisquick baking mix.
Prepare of Sour cream.
It's of 7-up (I actually use diet ginger ale).
You need of Extra sharp cheddar cheese – shredded.
Prepare of Bacon bits – home made or brand of your choice (I used Hormel).
Prepare of Finely chopped jalapeño peppers – I used fresh – but I imagine red pepper flakes would work as well.
It's of Butter – divided in half.
I then cut out the biscuits with a glass. I didn't think it was necessary to roll out this small amount, but I'm sure this would work for a full recipe as well if you just do it in two Nutritional Information. The dough will be very soft, don't worry. They are also made with Bisquick, which is a This made the biscuits a little bit thicker with a buttery crunch and I sliced it like cornbread or pie.
7-Up Biscuits With A KICK! instructions
Pre heat oven to 400°F. Melt 2 TBL BUTTER IN THE BOTTOM OF THE PAN.
Blend the sour cream into the Bisquick.
Add the soda & mix to incorporate.
Add the cheddar, bacon bits, & chopped jalapeños until incorporated.
Place on baking sheet & dot the top of each biscuit with butter. I baked my biscuits for 20 minutes – your mileage may vary depending on oven true temperature.
When finished, remove from oven & allow to rest before removing from pan.
Only thing left to do is plate a bisquit.
I like mine with a bit of organic raw honey.
We love them with gravy or just jelly. yummy quick. Okay I am almost embarrassed to post this ~ REALLY. Yum I was digging through my mom's special recipe box the other day and came across an interesting recipe for biscuits. They are so fluffy and buttery that they may very well become your go-to biscuit. Mix in and dump on a well floured surface ~ I used parchment paper, makes clean up easy.